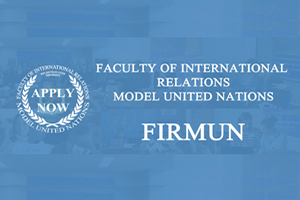 Faculty of International Relations Model United Nations is now open for application!
It is an honor for us to welcome you to the Faculty of International Relations Model United Nations! Why participate in FIRMUN?
It will help you to develop confidence in leading others, stronger awareness of global issues, it gives the chance to make new friends! Model UN is valuable experience. It's time to be inspired to change the world!
Thousands of students actively take part in MUNs, debating in Organs Being Simulated.
Now it's your turn to become a part of FIRMUN family!
Be informed. Be involved. Be inspired.
If you are doing your Bachelor, Master of PhD Degree, we are waiting for you!
APPLY NOW!
Dates: 19/10/2016 — 22/10/2016
Deadline for application: 16/10/2016
Venue: Faculty of International Relations BSU, (Minsk, Leningradskaya st. 20)
If you are truly passionate about Diplomacy, International Law, Economic or Political Affairs apply now for one of the following Committees:
1. Security Council (SC), which Agenda is:
1. Illegal use of Ballistic Missiles by the Democratic People's Republic of Korea (DPRK);
2. Asylum-shopping in the EU as a Threat to Peace and Security on the Continent; or to
2. Modified First Committee of General Assembly, Disarmament and International Security, (1GA Modified), which Agenda is:
1. Reducing the amount of victims of Improvised Explosive Devices (IEDs) in the Middle East;
2. Fighting Xenophobia and Tolerance Building towards Forced Migrants as a Prerequisite for Safe and Stable Receiving Society.
Participation in the FIR Model UN is absolutely free of charge!
Fill in the following Application Form to apply: https://docs.google.com/forms/d/e/1FAIpQLScR82S0wWBM8GhKo235f9huSMjjw_V_P_F4RtX97Tbiwql-mg/viewform
E-mail for queries: This email address is being protected from spambots. You need JavaScript enabled to view it..
We are looking forward to receiving your applications!
---
¡Modelo de Naciones Unidas de Facultad de relaciones internacionales está abierto para su solicitud!
Si Usted se interesa por la política internacional,
Si Usted quiere encontrar solución para los problemas existentes de comunidad mundial,
Si Usted desea practicar su idioma extranjero,
Si Usted busca a oportunidad para mejorar sus habilidades para hablar en público,
Si Usted está preparado a pasar algunos días en el mundo de diplomacia y debates…
… ¡el Modelo de Naciones Unidas es un lugar justo para Usted!
Invitamos a participar a estudiantes, másteres y postgraduados.
Cuando: 19/10/2016 – 22/10/2016.
Plazo fijo de aplicación: 16/10/2016.
Lugar de reunión: Facultad de relaciones internacionales, Universidad estatal de Belarús (Leningradskaia, 20, Minsk).
¡Usted puede participar en el Consejo de Seguridad en español!
Programa de sesiones:
1. Servicios ilegales de transporte de solicitantes de asilo, como una nueva forma de delincuencia transnacional que amenaza la estabilidad de la comunidad mundial
2. La amenaza de actos terroristas en Europa
¡Participación en el Modelo de Naciones Unidas de Facultad de relaciones internacionales es completamente GRATUITA!
Por favor, rellene este formulario para aplicar: https://goo.gl/forms/fbwlihK95ZtubAK32
Si Usted tiene cualquier pregunta adicional, se ponga en contacto con nosotros a través de este correo electrónico (This email address is being protected from spambots. You need JavaScript enabled to view it.).
¡Esperamos a recibir sus aplicaciones!
¡Suerte!
---
Application for the Human Rights Council (rus) is available here.