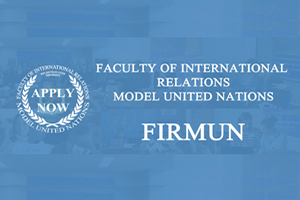 Faculty of International Relations Model United Nations is now open for application!
This year the UN and the whole world embark on a new journey. Journey to achieve recently adopted Sustainable Development Goals by 2030. In the next 15 years, the world community will strive to end extreme poverty, fight inequality & injustice and fix climate change. However, to achieve these extremely difficult goals, we need to think about everyone and consider the contribution one may give to shift us on a sustainable path. Herewith we refer to all the people of our only mother planet and call for inclusion for all. We agree that we can do it for the whole world at once. Although we can start from the place where we are. Let us make Belarus inclusive together and ensure participation of everyone in the achievement of the brand new sustainable development agenda!
Aaaand, drum-roll!
You may ask, what was all these about. It is about new advocacy campaign the UN in Belarus is about to launch called #InclusiveBelarus SDGs for All to raise awareness about; fight fear and stigma against; and give hope and opportunity to those who feel excluded from the world they live in every day. Intrigued? At least we are!
Want to learn more about the work of the UN in the world and in your country?
Want to know about the Sustainable Development Goals and new Development Agenda?
Want to hear about inclusion and understand why do we need it?
And, of course.
Always wanted to try you yourself as a Diplomat?
Practice your English and debating skills?
This exclusive Model United Nations is the place right for you.
We promise lots of fun, discussions, new acquaintances and interesting guests!
Don't miss your opportunity to become a part of the National UN Campaign #InclusiveBelarus #SDGs4All
Students, Master students and PhD candidates are welcome to apply!
PARTICIPATION IS FREE OF CHARGE
for the Belarusian citizens
Dates: 30/03/2015 — 01/04/2015
Deadline for Application: 20/03/2015
Venue: Faculty of International Relations BSU, (Minsk, Leningradskaya st. 20)
Follow the instructions below to become a part of the UN Model!
Firstly, chose one of the three proposed UN bodies for simulation:
Security Council
Agenda:
1. Children in armed conflicts
2. Refugee crisis in Europe
The Economic and Social Council
Agenda:
1. Financing Sustainable Development
2. Empowering Youth Development
Human Rights Council
Agenda:
1. The Impact of Sexual and Gender-Based Violence on Reproductive Health
2. The Realization of Rights of Persons with Disabilities
Secondly, fill in the following application form.
If you have any additional questions, please, do not hesitate to contact us!
E-mail for all queries: This email address is being protected from spambots. You need JavaScript enabled to view it..
We are looking forward to receiving your applications!