On March 30, 2018, we held another information meeting with journalists. This time the target audience were journalists from Brest and Brest region.
The information event was held with journalists in the form of a talk-presentation, where we delivered a presentation on the problems of refugees in the Republic of Belarus, as well as migration and issues of tolerance. We talked about UNHCR's mandate globally and in Belarus, what categories of persons of concern exist and how important it is to distinguish them. An information meeting was held in Brest. The journalists' questions were primarily directed to the study of the situation and problems of refugees in Brest and Brest region. It was clear that not only we were interested in this meeting, but the journalists themselves became permeated with the problem.
Thus, during the press event, we attempted to clarify as far as possible the essence of these concepts, to give many examples of misuse of terminology in the media and to provide accurate statistics of refugees in the Republic of Belarus and in Brest and Brest region. The legal adviser of the Refugee Counseling Service in Brest assisted us with this issue.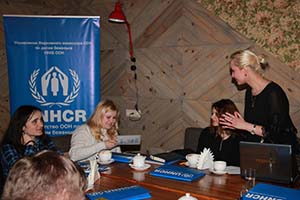 The relevance of such events is confirmed by the fact that the mass media directly influence the formation of public opinion on the problems of refugees. The materials published, as a rule, in the electronic media, which today gained mass popularity in connection with the development of social networks, discussion of news in comments, blogs, etc., provoke a wide response from readers and users. Subjects of forced migration, refugees are quite difficult in terms of terminology and legal nuances and require a certain level of preparation of professionals.
As a result of the event, journalists were awarded with diplomas on participation signed by the UNHCR Representative in the Republic of Belarus Jean-Yves Bouchardy.
We express our gratitude to journalists from the regional newspaper "Zarya", the "Yanaysky Krai" newspaper (in the city of Ivanovo in the Brest region), "Brestsky Vestnik", "Zarya nad Bugom", and the "Brest Newspaper" for their participation and interest in this issue. We express our hope that this event will be a successful example in a row of similar press events in other regions of Belarus.